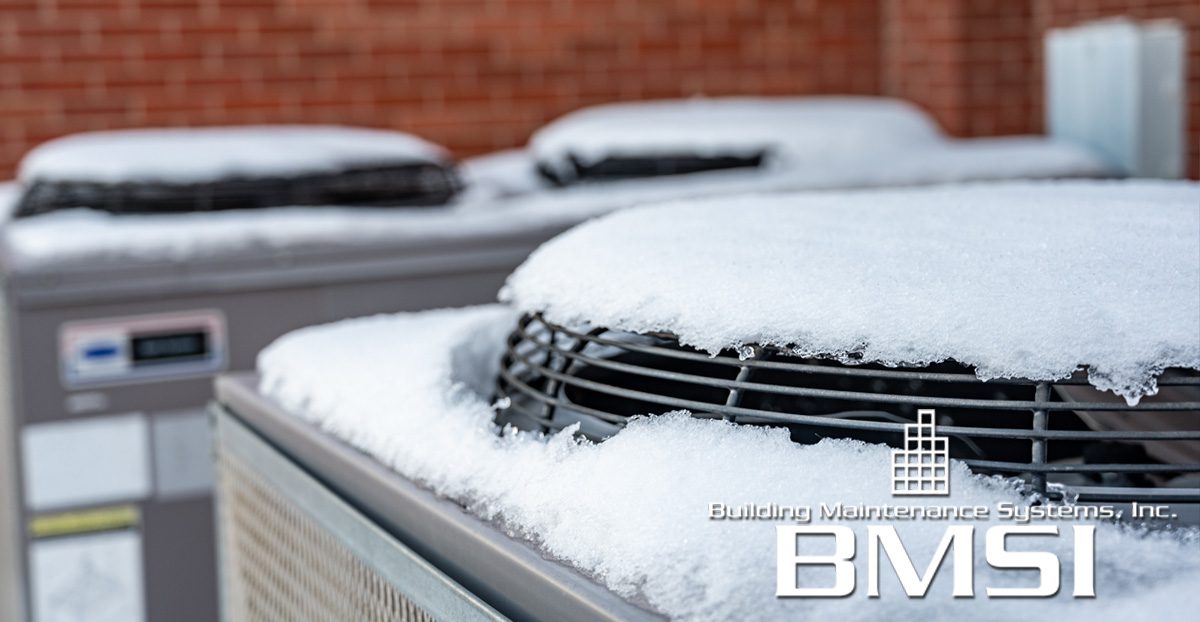 Getting commercial buildings winter ready is no small task. When your scheduled ongoing maintenance is up to date, you're less likely to encounter many problems in the fall. Preventative maintenance, or PM, will make winter preparations more efficient. Is your facilities manager stretched too thin?
Getting Commercial Buildings Winter Ready
Your facilities manager's checklist for maintaining the building will be extensive. Before the snow flies, you must take care of all preventative maintenance indoors and on the grounds. A professional should inspect the roof for any cracks or loose flashing and remove debris. Many larger commercial buildings have their HVAC units on the roof. Winterizing that expensive system has multiple steps. A trained professional must ensure each component is shut down properly for the season.
Outdoor Winter Readiness
After you've finished checking out the roof and HVAC equipment, move down to complete an inspection of the grounds. Have a landscaping company prune limbs that represent a possible hazard in a big storm. Maintenance should move all unsecured outdoor furniture inside for safety and to extend the life of the furniture. If you have an area for outdoor gatherings, carry BBQs or any other mobile items inside. Check awnings and signage to make sure they are secured. Your maintenance manager, or a licensed landscaping company, should inspect the irrigation system before winterizing it. It needs to drain correctly to ensure pipes don't freeze and break.
Building Hardscape Winter Readiness
It's time for you to inspect your hardscape to ensure it comes through winter in good shape. Have building maintenance repair any cracks in the sidewalks or the parking area. A small gap, or hole, can grow exponentially over a brutal winter. If the asphalt or sidewalks show signs of lifting due to expansion and contraction, tackle that problem now. Uneven hardscapes hinder smooth snow removal and possibly damage the snow removal equipment and surfaces. Most landscape contractors offer snow-removal contracts in the winter. If your maintenance team does the snow removal check and service all the equipment.
Avoiding Big Storm Problems
You can't predict a big storm, but you can ensure you're as prepared as possible. Your tenants need to know what to expect from you when chaos ensues. When you keep your tenants informed and prepared, problems are more manageable. Have emergency procedures in place to notify tenants of closures, parking restrictions, and communication options. Tenants will feel a sense of relief knowing you already have a plan of action in place in case of emergency.
Call BMSI to schedule winterization for your building. We'll send a maintenance engineer to assess the property's needs. You can take advantage of our ability to provide you with support staff. You may only need assistance for a few hours, a day, or a week. At BMSI, we can fill those gaps to keep your building in great shape and tenants happy.
Regularly scheduled commercial building maintenance will simplify life for your maintenance staff and tenants. Facilities managers at many companies are stretched too thin due to the pandemic. At BMSI, we support your team where and when they need assistance. Our success is due to our solid track record with commercial real estate owners, investors, and tenants.